A pipe bursts in your kitchen and now your house is flooding! What do you do? Call the right hero for the job, a plumber!
But wait, how do you know which plumber to choose? Should you go for a national plumbing company or a local neighborhood plumber? That pipe isn't going to fix itself, so let's go over the tips that will help you choose a plumber you can trust for the job.
Search For "plumber near me" Online
The internet has introduced us to a new form of research that makes choosing a plumber much easier than it used to be. No more looking through big books of numbers or driving past billboards noting the plumber as "best in town". Search engines like Google are designed to provide you the best results when searching for literally any service!
One of the best ways to find a trustworthy plumber fast is by performing a search online!
On your computer or phone, head over to your search browser (Google Chrome, Firefox, Explorer, Safari, too many, etc) and type in "plumber near me" or "plumbing repair near me" or "plumber (my city)". Typing in these searches will provide you with a list of results for plumbers that are near your area and are close enough to respond to your plumbing problem!
For example, type in "plumber fort collins" and you'll be provided with a list of the top plumber services based on proximity.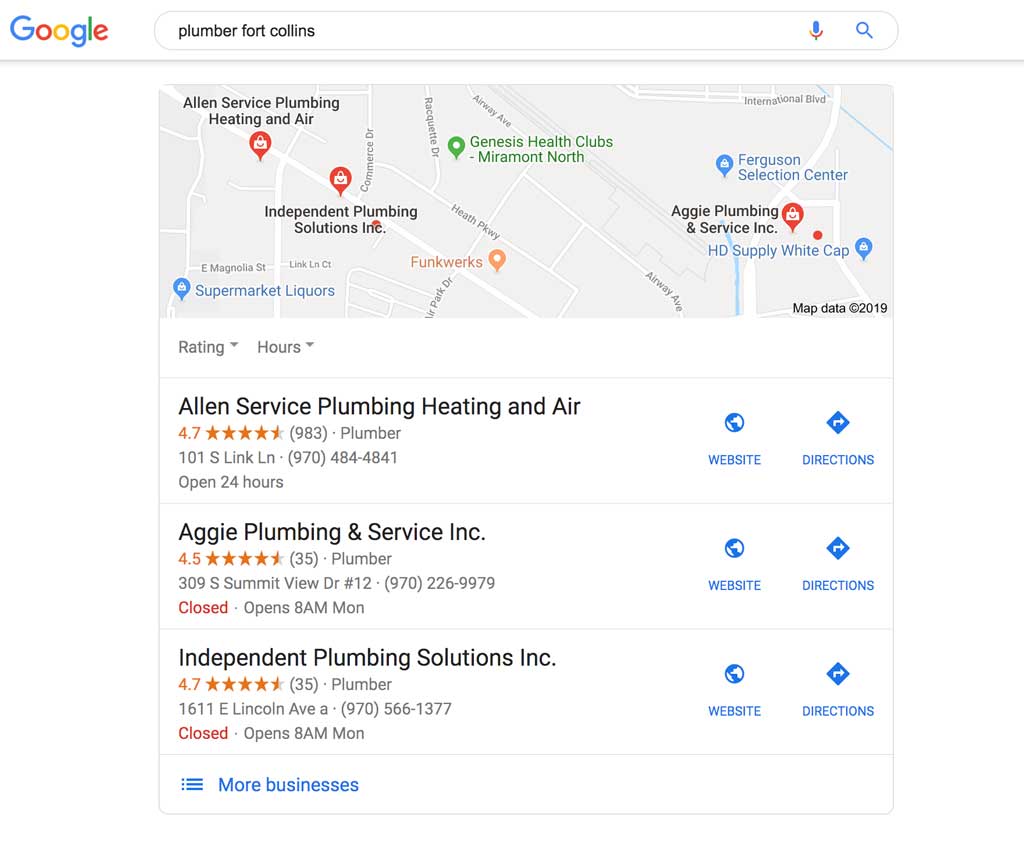 These are plumbers that either have offices near you or service the area you live in. If you aren't keen on the choices that are provided to you first thing in your search, you can click on "more businesses" to see more choices of local plumbers in your area!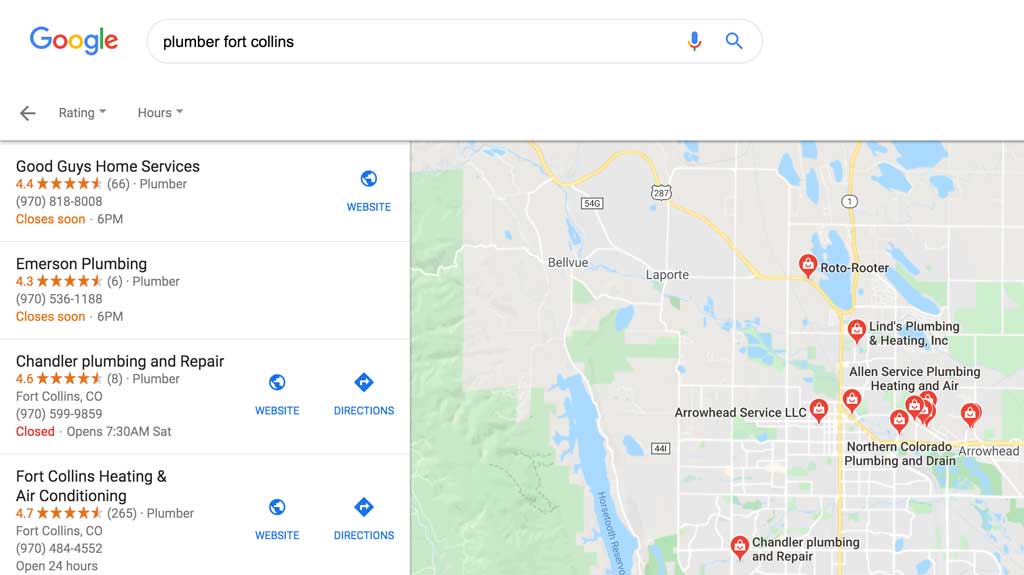 Check the Plumber's Reviews
Once you've conducted your search online, you can see a list of all reviews for that plumber or plumbing company. Reviews are a great indicator of a plumber's credibility, trustworthiness, and work experience. The higher the review score, the better! A good rating for finding the best plumber near you starts at 4 stars.
If a plumber is rated 4 stars and up, that means they've generally had good experiences with the jobs they've completed. However, don't just choose a plumber based on only the better reviews. It's a good idea to take a look at both positive and negative reviews to see what other customers are saying about the plumber. There is typically a reason for a lower score.
Another good way to look at reviews is by checking the number of reviews a plumber has received. The number of reviews tells you if the plumber has been around for a long time, building their portfolio of plumbing experience. Sometimes, the reviews will include pictures of the plumber's work after the job!
Ask Family and Friends
Some of your family and friends have most likely used a plumber's services before. Like the online reviews, testimonials from family and friends can help you in deciding on choosing a plumber for the project at hand. If, however, the plumbing project is an emergency, then contacting a family member or a friend probably won't be fast enough. Online reviews are instant and can provide you with enough valuable information about the plumber. Think about how quickly you'll need to hire a plumber first before you go about calling people you know for their plumber service experiences.
Ask the Plumber Questions
Once you've found a plumber that you think can get the job done, go ahead and give them a call! Use this line of questioning to gather the answers you need to ensure they're the right plumber for you.
1. Are You a Licensed Plumber?
Depending on which state you live in, plumbers must be licensed. Each state will have different requirements for plumbers licensing, but a licensed plumber is an experienced plumber. Having a license means they are legally credentialed to work in your state and neighborhood as a plumber. The reason plumbers need to be licensed by the state they service out of is because of the piping, gas, or other systems they need to work with.
States (not all) have different piping, water, and sewer systems. These systems are crucial to work on with accuracy to ensure your pipe repairs or installs follow your state's best and safe practices. Your kitchen sink should be easy enough to work with, but what if the problem is further within the foundation? A licensed plumber will know where to check and how to repair it without further complications.
2. Are You an Insured and Bonded Plumber?
Simply put, plumbers that aren't insured are huge risk factors. Just because a plumber might be licensed, one mistake can cause property damage to the surrounding areas. Plumbing contractors should be both insured and bonded for overall efficiency and safety. However, just having insurance can be a powerful shield for you and your house in case the plumber did a horrible job or didn't properly fix your issue.
Never hire a contractor that doesn't have insurance. Save yourself from a major headache.
Liability insurance and worker's compensation insurance are two forms of insurance that the plumbing contractor should have. At the very least, they need to have liability insurance. If your property gets damaged, you can be reimbursed for the plumber's negligence. Worker's compensation is for the plumber in case of an injury they incur on your property. A good company will have this type of insurance for their contractors.
Bonding refers to a plumbing contractor who has acquired a surety bond. This bond helps in the case that the insurance they have doesn't completely reimburse you for property damages or the contractor's negligence. It can even help for stolen items from you and lost wages to the contractor.
3. Is the Plumbing Cost Fixed?
Depending on the plumber and their business, payment options differ. For example, some plumbing contractors may charge by the project type, hour, or other projections. You want to ask them right off the bat what their contractor costs are and what their estimation for the project will be.
Some plumbing companies, such as Good Guys Home Services, offer free estimations. If this is offered, take advantage of this part of the service to acquire an accurate price for the project. Also, ask them how long the project will take since they might be paid hourly.
Depending on the project, plumber costs can be anywhere from $175 to $450. However, this could be drastically higher for installing utilities such as water heaters.
4. How Much Experience Do You Have as a Plumber?
Asking how much experience the plumber has as servicing as a plumber and being in business can be crucial for complicated plumbing issues. An experienced plumber will know where to find the issue within the piping zone and what could have caused it. An inexperienced plumber could waste a lot of time trying to find the issue and fixing it, which can lead to more money out of your pocket.
5. Do You Have Emergency Plumbing Services?
A pipe bursting is an emergency. You can't just wait 5 hours for the plumber to show up at your door if your house is flooding. Ask if the plumber has round-the-clock, 24/7 emergency services in case an urgent plumbing problem occurs. You'll thank yourself later if there is a gas leak at 2 in the morning on a Saturday and you have their number on speed dial.
Hire a Local Plumber
If you want to be treated as a valued customer and want the best services in your area, hire a local plumber. Locally owned plumbing businesses will typically care more about how they handle your plumbing issue from the first point of contact to the last. While larger companies have the numbers to serve you, there's nothing better than knowing your project means a lot to a local plumber. You'll gain a relationship with a locally owned plumbing business and will receive the best treatment and service for your dollar.
If you ever find your pipes busted or need a plumber for any plumbing project, give Good Guys a call! We've got a great staff in Loveland, CO that services the Denver and Northern Colorado area for all your plumbing needs!
Now, let's get that kitchen pipe fixed!