When your water heater stops working, has a leak, making strange noises, or has an odd smell, it's time to either get it repaired or to buy a new one. In either case, a water heater repair contractor can help you pinpoint the issue with your water heater, acquire the correct parts, install the parts accurately and safely, and can recommend the type of water heater you might need to purchase if all else fails.
However, finding a water heater repair contractor might be more difficult than you think. You want someone who is experienced and competent with water heaters so your repair or installation goes smoothly. After years of experience of dealing with water heaters and seeing what other contractors charge for their services, we've gathered a list of answers to help you find the right water heater repair contractor for the job. Read on to see our list of qualifications.
1. Is the Contractor Close to My House?
Hiring a local water heater repair contractor should be the first thing you consider. Plumbers are the most qualified and knowledgeable when it comes to water heater issues because of the piping involved.
Someone who is located close to your house will know the area well and can understand all of the problematic elements that come with a water heater in your home. For instance, if you are living in Fort Collins, Colorado, then a plumber that is located out of that city would know if the weather or environment is effecting your water heater or if it's a problem directly with the water heater. Hire a plumber who is close enough to you so they can quickly arrive at the scene to get started.
The best way to locate a local plumber is to go directly to Google or another search engine and type in "water heater repair near me" and you'll be provided with a huge list of plumbers that you can pick from.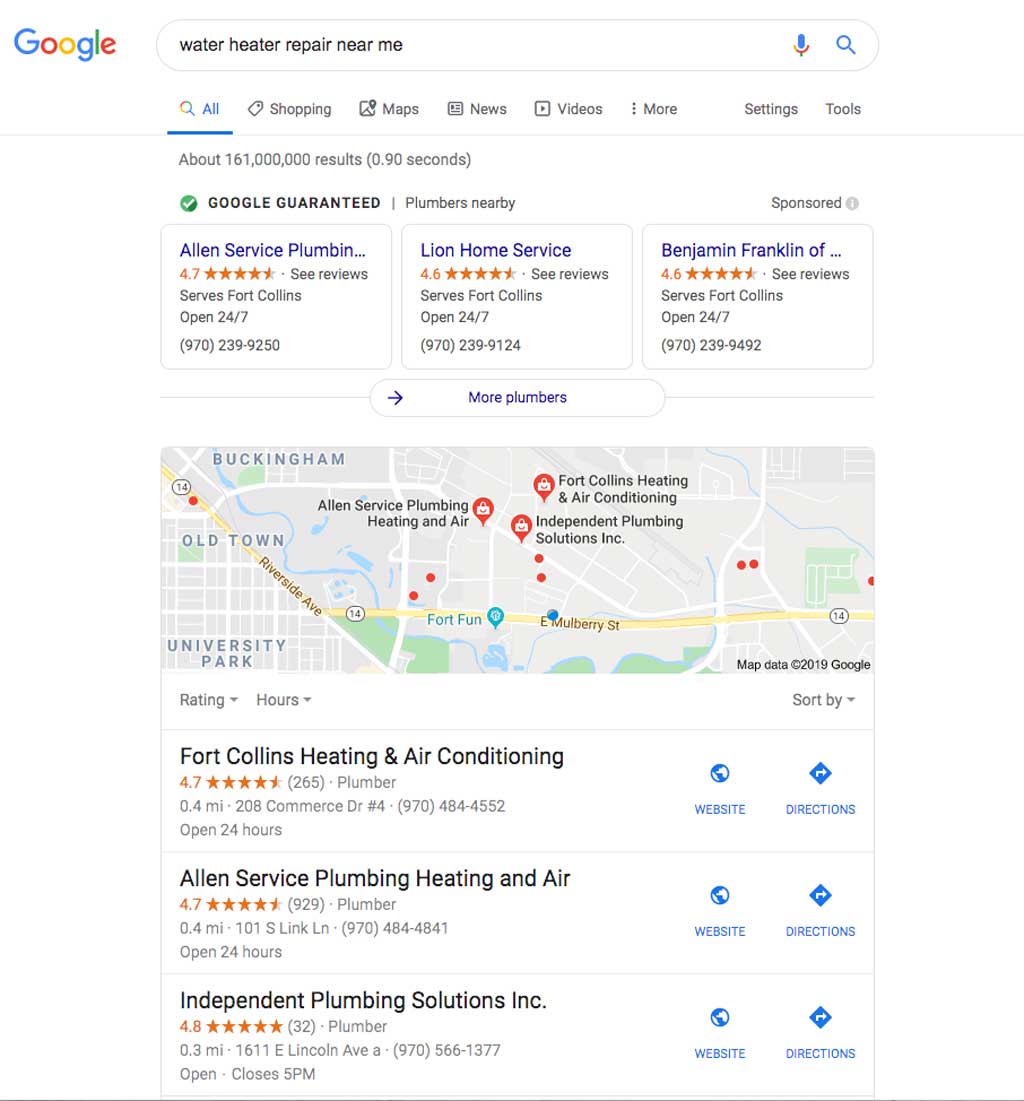 2. What is the Plumber's Reputation?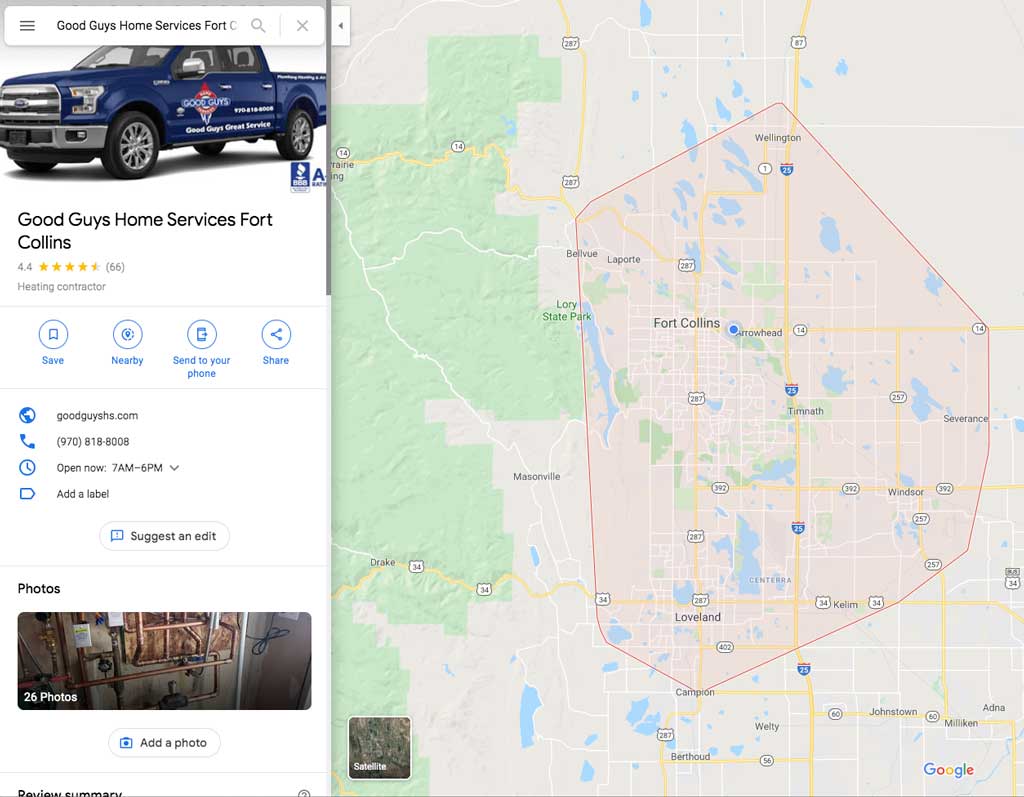 When hiring a plumber to come to your house, you'll want to know if they can be trusted and if they have the right type of experience for your water heater's problem(s). There are several ways to find out if the plumber is reputable.
You can talk to family and friends and ask which plumbers they've used (if any) for their water heater.

Search Google to find a nearby plumber that has a list of high-rated reviews.

Go on Yelp, Angie's List, or Home Advisor and search for "water repair services" in your area. Again, you'll want to go with one of the higher-rated plumbing companies/plumbers.
3. Choose a Plumber With Experience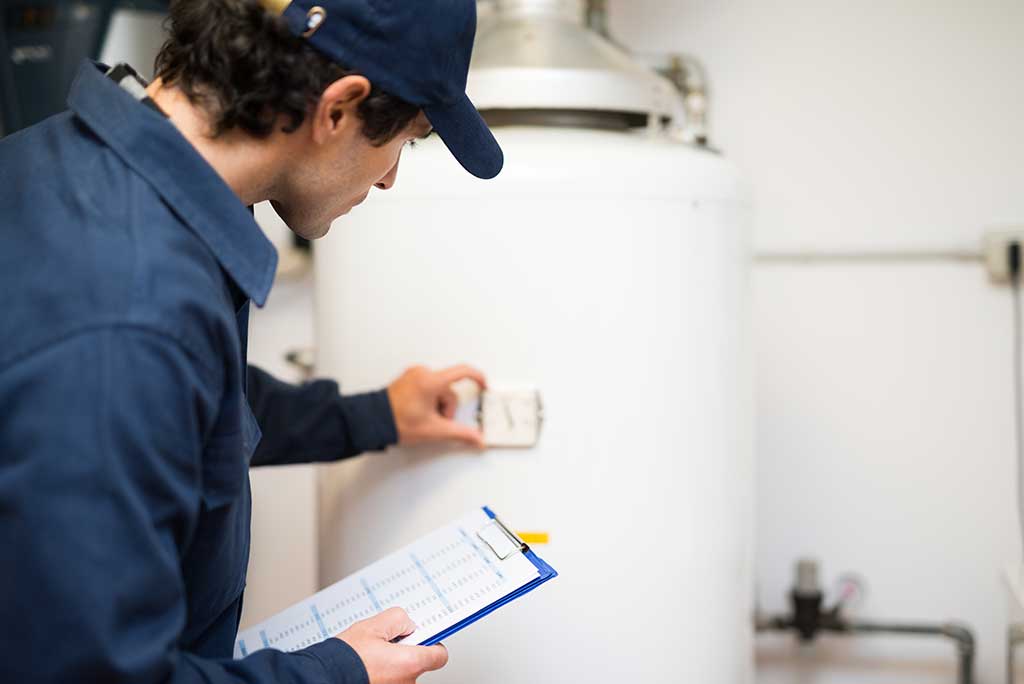 The more experience the plumber has, the better the repair/installation of your water heater. Give them a call to inquire about their experience and list the problem(s) you're having with your water heater. Ask them questions like:
Have you worked with water heaters in my area before?

What do you think the issue could be?

How long do you think it will take you to repair/install my water heater?

What should I do with my water heater right now?
Write down the answers to these questions and acquire the name of the contractor you speak with so you know who to talk to later on. An experienced plumber should be able to provide you with their approximations for your water heater issues based on their professional experience in the field.
4. Is the Plumber Licensed?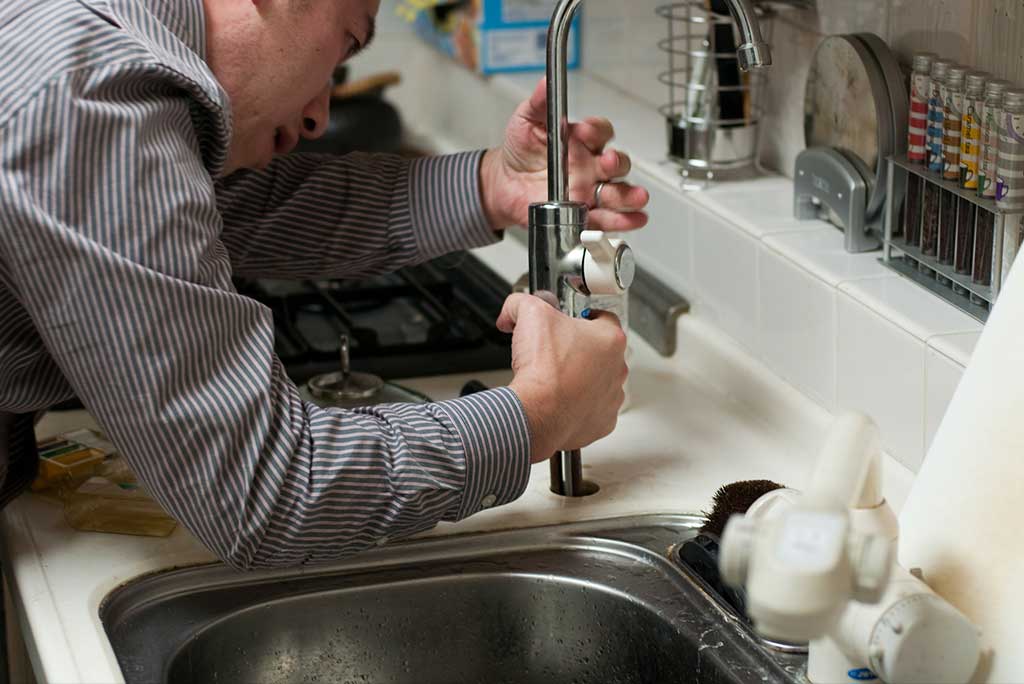 A licensed plumber means that they are legally allowed to work as a plumber within your state. The only states that don't currently require a plumber to carry a license are Kansas, Nebraska, Pennsylvania, and Wyoming.
Why should a plumber have a license? Having a license means that the plumber who is working on your water heater has been approved by the state for understanding that state's plumbing infrastructure and the complications of liability if an accident were to happen. The plumber most likely doesn't carry insurance if they don't hold a plumber's license. This means that if anything happens to them while they are working on your repairs/installs, they could look to sue you.
At Good Guys Home Services, we ensure that our plumbers are licensed and insured because we know how important it is for you to have a trusted relationship with your plumber.
5. Is the Plumber Insured?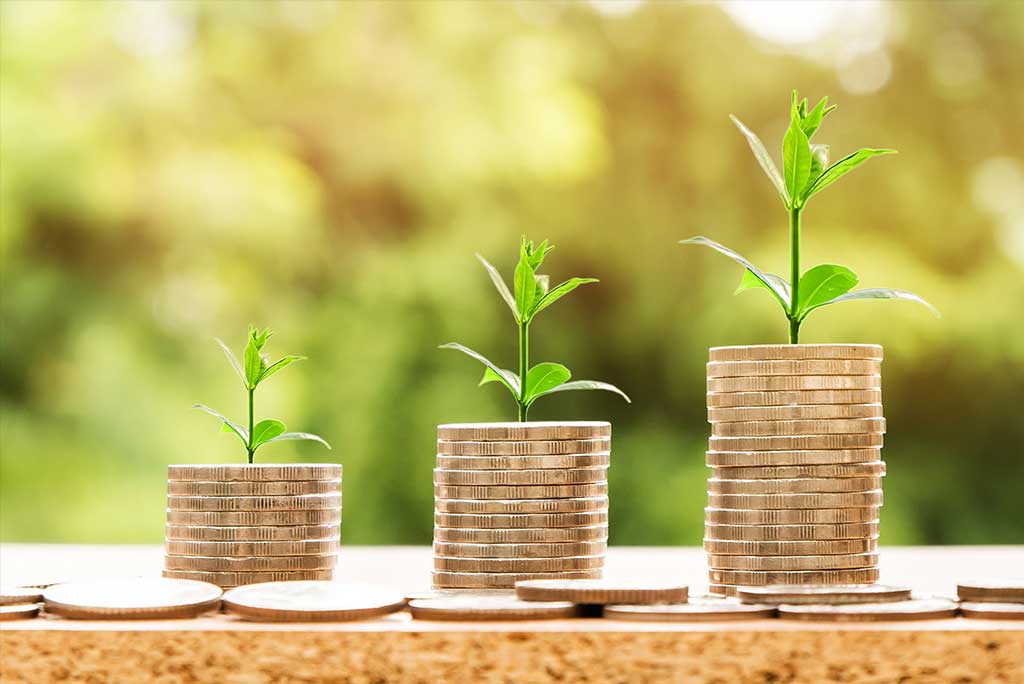 Insured plumbers are the best viable option in case of a mishap during your water heater's repair/installation. If a plumber advertises that they are insured, this typically means they have obtained General Liability insurance (GL insurance).
What this means for you is that you'll be reimbursed for any negligence on the plumber's part during the repair or installation. If they didn't repair or install the water heater accurately and there is a leak or a worse problem than before, then you can count on GL insurance to cover the new damages.
6. Look at the Plumber's Appearance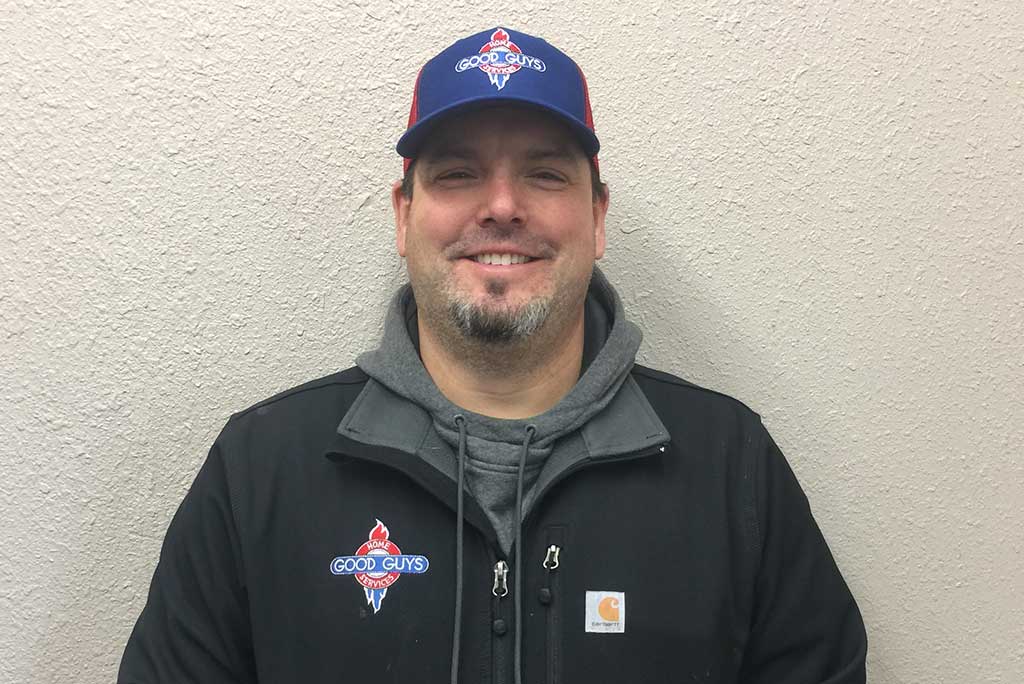 As funny as this may seem, a plumber's appearance says a lot about how they handle themselves and their work. It's understandable if they recently finished a project and have stains on their uniform/clothing, but they should still respectably carry themselves.
You're allowing a stranger to come into your home, try finding some pictures online about what they should be wearing by visiting their website (if they have one) or searching for them on Google. If they are wearing old, dirty, tattered clothing that doesn't resemble what's in the photos, then you should be questioning if they are the right person for the job at hand.
A real water heater repair plumber cares about how they appear to their clients.
7. Get an Estimate
A lot of plumbers offer free estimates if you call them. We at Good Guys Home Services offer a free estimation quote so you can be aware of the cost that you might be charged for the repair/installation. It can be difficult to acquire an accurate estimation depending on where your water heater is located. Don't be surprised if you end up getting quoted one price and ending up with another that's either higher or lower than the original quote.
To better understand how much you might be charged, you should talk to a couple of plumbers that are experienced with water heater repairs. Doing this will save you the hassle of potentially getting settled on a price that might be overestimated or worse, a scam.
An accurate quote comes from the inspection stage once you choose a plumber to come out and see your water heater's issue, where it's located, what parts are needed, and how much time it will take them. The average cost for an inspection is $165, however, this is dependent on factors such as location and if other project inspections are necessary upon your request.
Conclusion
Hiring a plumber to come and fix your water heater doesn't need to be complicated. But you should do your homework before you end up regretting choosing the wrong person for the job. Hire someone with experience, integrity, honesty, and good work ethics. Cheaper doesn't mean simpler.
By following these tips, we hope you understand how important it is to have an experienced plumber come into your home to work on your water heater. When installed or repaired improperly, water heaters can be extremely dangerous. Don't let your life be put in jeopardy by choosing the wrong plumber.
If you're living within the Fort Collins, Colorado area or in the surrounding cities such as Greeley, Loveland, Timnath, Windsor, or Ault, our experienced plumbers are available to help you with the necessary repairs for your water heater. Give us a call today at (970) 818-8008 for your free quote.